You all probably know this already, but I'm an iPhone girl, and have been since I got a 3G in…2008? 2009? I can't remember exactly, those years are lost in a haze of bad choices that I try not to recall, ha.
I had an iPhone 4 after that, which was aces to begin with then quickly lost favour when the power button broke a month after my warranty expired. I laboured along using accessibility settings to lock my phone for ten months and it was. not. pretty my friends. No sir.
I recently upgraded to the 5 when my contract ran out (damn you, 24 month contracts! You make us wait so long!). The speed change has been remarkable, but other than that (oh, and Siri, I guess) it's pretty much the same. Except of course that it's so shiny, and new!  And the lock button works! It really is like a magical wonderland. Or something.
Anyway! Now I have a nice new fast phone I thought I'd keep all the crap off it and only retain the apps I really love and use. Since I was doing that anyway, I thought I'd make a little list here of some of the gems that might not be that well known, but that may be useful for some of you :) (especially if you're organising geeks like me. Holla!)
First up: Little Memory.

I first heard about this app from Meg (I think) just under a year ago. The premise is simple: You write a few sentences to help you remember your day, add a photo if you want to and then save.
Once you've built up a stock of memories the app will show you what you wrote yesterday, last week, last month, six months ago and more. You don't get to see all your memories at once but I think that's part of the charm – they're a nice surprise every day :) It was so nice to see the wedding memories when they rolled around! It's £1.49 but I do think it's worth it. It also shows you charts of your words (and supposedly emotions) but I rarely even look at that screen, to be honest. You might tho!
Next we have CARROT.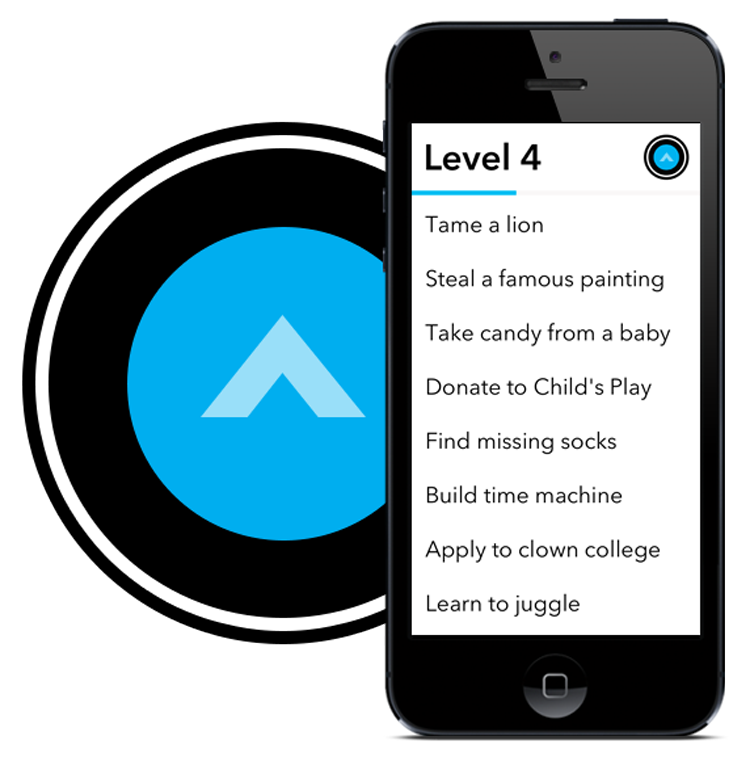 A semi-sadistic to-do list, CARROT is funny, engaging and has made me way more productive than any of the other (many, many) to-do list apps I've tried. CARROT basically has a persona (a little like HAL 9000), and she doesn't like it when you don't check things off your list. You build up points by checking things off which then enable you to level up and earn new features like Siri integration and reminders. It's got a really clean, slick UI as well which doesn't hurt. Again, it's not a free app but it's only 69p which isn't likely to break the bank.
I've tried a few, but Plain Text is now my text editor of choice.
I use it instead of the default notes app that comes with the iPhone, which I dislike even tho it's yellow (shock horror). Plain Text suits me better as it syncs with Dropbox, meaning that I have access to my notes no matter what device I'm on. I guess something similar could probably be achieved now that iCloud is all the rage, but I'm used to Plain Text and Dropbox and I think it works well. Plus it's free! Yay!
& Finally: Mailbox.
I hadn't heard of this mail app until a few weeks ago, but I'm sick of using the default mail app (newsflash: it's terrible) and Mailbox is free so I figured that I wouldn't have much to lose by signing up. It's being rolled out slowly to new users so it took about three weeks for me to get my account (which was a frustrating wait as there wasn't a lot of info on the wait screen) but it's definitely been worth it for me.
It only syncs with gmail email addresses at the moment, but if you have one of those it's worth taking a look at. It's very easy to use, encourages you to actually deal with your email and looks pretty (always a plus with me, apparently). I've achieved inbox zero every day since I downloaded it, which is something that's never, ever happened before. It appeals to my organising nature. A lot.
-
The other apps that I use daily are WordPress, the Natwest banking app which is awesome if you bank with them (obviously less useful if you don't, ha), Tweetbot and Reeder, which is my feedreader of choice (especially now that Google Reader is saying goodbye, as they've already said they'll get a fix out before July, hurrah).
Is there anything I'm particularly missing? I'm very flighty with games – I tend to obsess for about a fortnight and then never play with them again. Give me a way to organise my life better tho and it'll likely stay on my phone for keeps. SC 4 organising 4LYF! x
I wasn't paid to write this, in case you were wondering. Not enough people read my blog to make it with anyone's while to pay me ;)